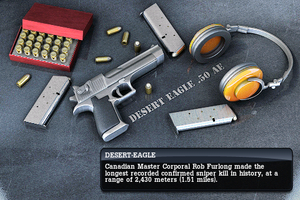 The Desert Eagle is included in the Base Set of weapons included with Gun Club 2. The variant shown in the app is chambered in .50AE and is hailed as one of the most powerful handguns in the world.
The
Desert Eagle
is a large-framed gas-operated semi-automatic pistol designed by Magnum Research in the
U.S. and by IMI in Israel ; the pistol is manufactured primarily in Israel by IMI. Manufacturing was moved to Saco Defense in the state of Maine from 1996 to 2000 which carried the XIX designation, but shifted back to Israel when Saco was acquired by General Dynamics. The Desert Eagle has been featured in roughly 500 motion pictures and TV films, considerably increasing its popularity and boosting sales.
It contains the Basic Gun Club Features, such as:
It doens't feature any attachments.