Introduction
Edit
Franchi SPAS-12

Type

Combat Shotgun

Place of Origin

Italy

Manufacturer

Franchi S.p.A

Produced

1979-2000/2001

Length

41 in. (Stock Extended)

Weight

8.75 lbs

Cartridge

12 Gauge (2 3/4 inch shells only)

Feed System

8+1 Shells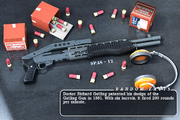 The SPAS-12 is a shotgun available in Gun Club 2 for free.
Interactivity
Edit
The SPAS-12 may be fired in pump-action mode and semi-automatic mode. This can be switched by tapping the "pump" button on the top-right corner of the screen. Once you do so, the button will say "semi" and the pump will move forward a bit.
The folding stock can be unfolded by tapping at its hinge.