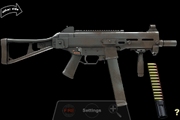 Introduction
Edit
The UMP-45 is a .45ACP calibre submachine gun featured in the Gun Club 2 Spec-Ops Pack.
Interactivity
Edit
Firemode selector for safe, semi and fully automatic fire.
Working bolt although it is not currently possible to lock the bolt in it's rear position.
Manual Reloading.
Usual Gun Club features including Slow Motion and Unlimited Ammo.
Attachments
Edit
The UMP-45 also has a selection of optional
attachments
which are usable via the options menu.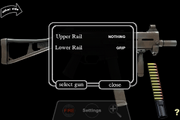 Attachments can be attached to either the upper or lower rails but only if they apply to that rail, for example a holographic sight cannot be attached to the Lower Rail.
Table of attachable accessories:
| Upper Rail | Lower Rail |
| --- | --- |
| Scope | Grip |
| Holographic | Nothing |
| Nothing | n/a |